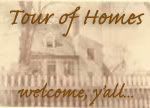 Okay, I'm late getting in on this, but I had so much fun getting to visit everyone else's, I just had to join in. You can start the rest of your tour at
BooMama's
place.
I'm so glad you came. Come on in!
First of all, this house has been a special blessing to us. We found it when our fourth child was born and we were desperately short on space. Our last house had already sold, and we had nowhere to go - another house we had put a bid on fell through, and this one came on the market - all in one week! It was definitely a God thing!
We don't own anything very fancy - most of our furniture is estate sale, vintage or otherwise salvaged (or at least looks like it after five kids!).
I like being able to put my feet up, and invite my friends to do the same!
Here is my front door. I leave it open most of the day so I can see what's going on outside through the storm door when I sit at the computer. That is, what I can see through the constant mass of fingerprints!
Here is my entry. The embroidery of the Twenty-third Psalm was done by my grandmother.
To the right is our formal living/dining room. I inherited the piano from my mother, and embroidered The Lord's Prayer when I was on bedrest for 16 weeks (that was the last time I actually had time on my hands!).
Straight ahead when you walk in is our family room.
Here's where I sit at the computer, at a desk I got at a yard sale, painted it red, then antiqued.
When I turn around I can see this.
I love my kitchen - decorated with both of my grandmothers' kitchen items and aprons.
And just in case things get a little crazy while are all seven of us are at the table, this reminds us what's important:
I'll just show the little girls' room, since my five-year-old has insisted on being in every other picture! The quilts on the wall were made by my maternal grandmother, and the one on the bed was made by my husband's great-grandmother.
While my kids' closets are
quite tidy now (16 bags to the Goodwill later!)
I will NOT be posting pics of my laundry room or my closet, for fear of injuring you with falling debris when you open the door!
Thanks for coming by - if you are ever in my neck of the woods, I'll whip up a batch of cookies, put the coffee on, and we'll have a nice visit, okay? For those of you with little ones, my oldest LOVES to babysit, so we might even be able to talk!