...to take care of sick kids.
In addition to the various and sundry injuries Allie(14) has incurred in the last few weeks, Annie(6) wins second runner-up.
A week ago Thursday, she came home from school and casually mentioned that she'd fallen off the monkey bars. I gave her the requisite Children's Motrin and cool washcloth and went about my afternoon. She was a little quiet, and I would have expected her to have a headache, but, well, it had been a long day. For all of us. I put her to bed and didn't think a thing about it. "You'll feel better in the morning," I said optimistically.
The next day she came home from school, complained of a headache, neckache and stomach ache, and, after complaining that it was too bright in the living room, proceeded to curl up on the sofa and fall asleep. When she woke up complaining even more about her headache, and (this got me a little freaked out) she said she was having trouble lifting her arms.
[DUH] About 9:30 that night I finally started putting the pieces together. So off we went to the ER, where we discovered that any mention of "fall" and "children" in the same sentence gets you the golden ticket straight to the CAT scan. Of course, there were no broken bones or bleeding into her brain, but wouldn't I have felt awful if she'd fallen into a foaming seizure the next day because I'd been too busy (and optimistic) to make sure?
So it was (just) a concussion - just enough to make her feel miserable for an entire week. But it was all worth it in her mind to be able to bring her neck brace (the ones ER nurses put on everyone who comes in complaining of whiplash-like symptoms) for show-and-tell on Monday.
Fast forward a week or so. Saturday Annie said she didn't feel good (what else is new?). By evening she had a raging fever. So my plans of packing up the house this weekend were pretty much dashed in favor of sitting on the sofa, patting her arm, and bending the straw "just so." (Dennis, on the other hand, steamrolled through the garage like a wild man. Only half a POD left!).
Today was the fourth day of the fever, so I took her to the doctor. She's got a cough now, too, so let's hope a round of Zithromax does her some good. Let's hope it does both of us some good!
************

Of course, I did sneak in some laptop time while I was banished to the sofa with Annie this weekend. I mostly spent it researching carpet choices (nylon is best) and more plant selections for our new yard.
Somehow I need to get the back yard to go from looking like this:
To this: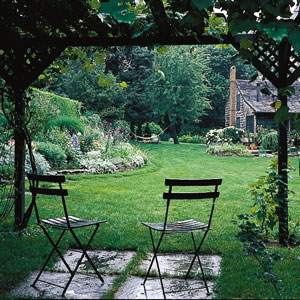 As you can see, I've got my work cut out for me.